TUM is the Future
Normally I end my post with a quote, but I thought of doing it differently this time. I will share a Diane Berenbaum quote and then build a case to connect it with the headline. In the meantime, you don't need to guess what TUM is because you are about to find it out in the next couple of paragraphs.
"The future belongs to those who make emotional connections with their customers."
This is such a deep quote (and insight) that I would urge you to read it again and reflect on it.
Why is this important to us?
For the simple reason that an emotional connection with your customer helps you build trust.
And we all know this truth – Trust is the currency of our business.
We are in the business of trust. We don't manage assets. We manage trust.  People trust us not with their money. People trust us with their financial life (and that of their family members). People trust us with their futures. This then leads to a fundamental truth – trust is about relationships.
Therefore, Trust Under Management (TUM) should be the guiding force of the work that we do. Period. There are no two ways about this. TUM is the Future.
TUM is such an important subject/area for all of us but there is very little subject matter and guidance on how to build trust and how to become a trusted professional. While I have covered the future of our profession and how to build the wealth management firm of the future in my book "The HappyRich Advisor", I decided to write a series of posts on this critical subject. Besides the posts, we will also be covering "Building Trust" in our HappyRich Advisor Community sessions in detail*.
This first post in the series focuses on the basics – Who is a Trusted Advisor and the four types of relationships. Because unless we know this there is no way to attain the status of a Trusted Advisor. Becoming a Trusted Advisor is paramount for our success in this field. When we become one, clients follow our counsel or guidance for the sole reason that we are giving it. We do not have to prove it. In such relationships, the messenger (you) is the message. But there is much more than simply following your counsel and it's captured insightfully by the two figures (visuals) from the book "The Trusted Advisor" by David H. Maister, Charles H. Green and Robert M.Galford.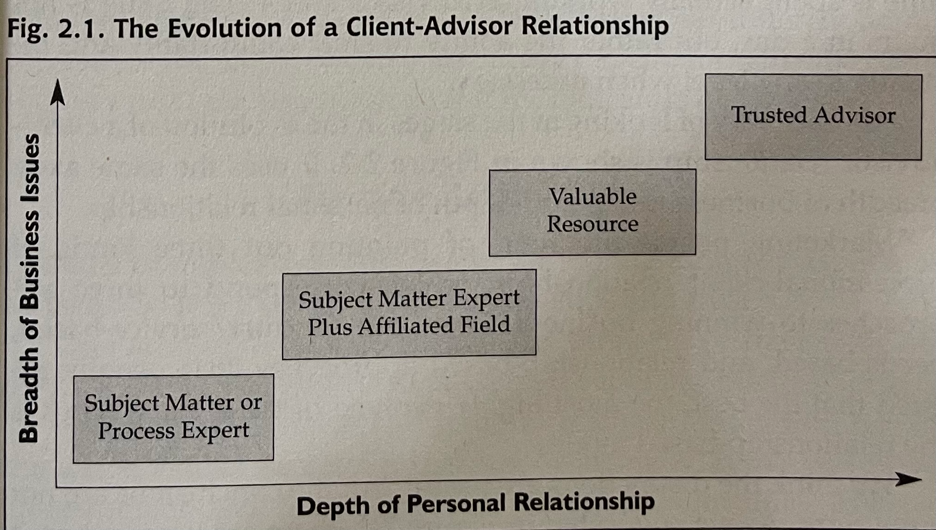 In the book, the authors write – "None of us begins our career as a trusted advisor but that is the status to which most of us aspire. We usually begin as vendors performing a specific task or one -off service, employing our technical skills. We may perform with excellence and expertise, but our activities are limited in scope."
While this is certainly true for most industries, there is a finer point that is applicable to our industry/profession. We are in the business of trust (managing financial lives of people); that's why it's absolutely fundamental for us to aspire to be trusted advisors right from the beginning. For that, we have to be trustworthy (worthy of people's trust).
The authors add "At the next level, the client may sense that we possess capabilities not directly related to our original area of expertise. When operating at this level, we begin to focus on our ability to solve more general problems and not solely on our technical mastery. Clients see us this way as well and begin to call us for issues with more breadth and in the initial defining stages of their problems. At the third level (valuable resource), we are seen as having an ability to put issues in context and to provide perspective. We are consulted on broad strategy issues related to our expertise but not limited to our expertise.
At the highest level, the trusted advisor is the person the client turns to when an issue first arises, often in times of great urgency: a crisis, a change, a triumph, or a defeat.
These 4 levels are a function of both breadth of issues and depth of personal relationships. By breadth of issues we mean the broad range of business issues in which the advisor gets involved. By depth of relationships, we mean the extent to which the client permits us to address their personal relationship to the issues at hand (and the business at large)."
Another way of looking at the above 4 levels is illustrated by the figure below.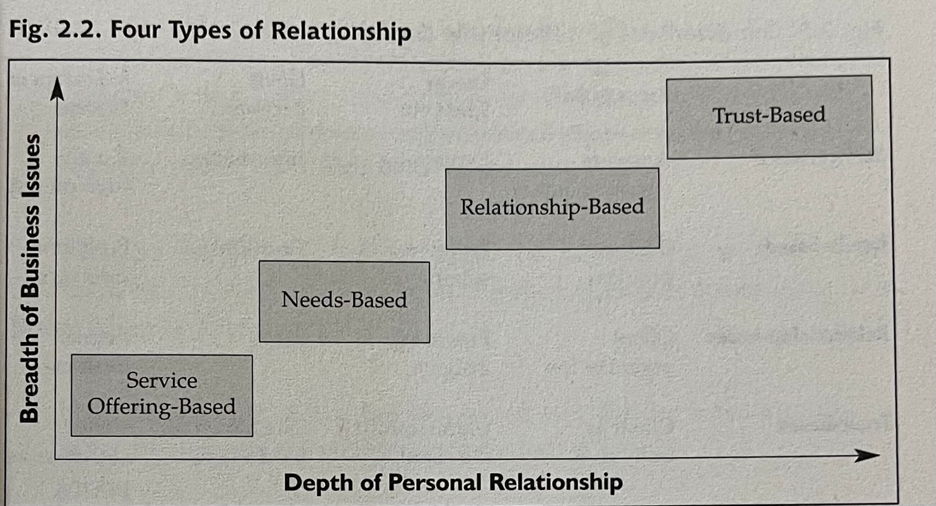 While the third (Relationship-Based) and fourth type (Trust-Based) might come across as similar, there is a huge difference between a Trust-Based relationship and a Relationship based one.
In the context of our industry, in a trust-based relationship, you would have the following –
100% Share of Heart and Mind

.

You are the first person who the client reaches out for things beyond money.
100% Invested under your care and guidance

.

There is no second guessing of things.

Things are done simply because you have said them (even when you can't prove them).

Referrals to Family and Friends

.

Some even go on to become brand ambassadors and a part of your board of advisors.
+ Many More but the above 4 are key ones.
The authors add, "Behaving with a professional colleague as you would with a friend is an extremely valuable reward of a trusted advisor relationship. There is little pretence. Much work can be done without wasting time or words. They are who they are (as imperfect as each of them may be) and do not allow their conflicts and incompatibilities to erode their mutual trust."
Now take a deep breath and answer these questions thoughtfully.
What level are you at with most (if not all) of your clients or

What type of Relationship do you have with most of your clients

?
A data point on the first question. Most firms have a portfolio of relationships. Very few trusted ones then some are relationship-based. Another few are needs-based while the majority are service offering-based.
Is this true for your firm too? What is the composition (or asset allocation if you like this word more) of relationships at your firm?
Wouldn't building a trust-based relationship with the majority of your clients help you build an immensely valuable firm

(not to mention the firm of the future)?
If so, what are you doing about it?