The Real Reasons We Don't Achieve Goals – Part II
In Part I of this post, I had written the following lines – Goal Setting is Important. But it is relatively easier than doing what it actually takes to achieve the goals. At the same time, there is a huge impediment between you and your goals.
Whether it is your weight loss or AUM growth, there is one thing common in both cases. The gratification is in the future (delayed), whereas the pain is current (now).
You might have guessed that my second favourite topic after personal finance is weight loss. So, let's take yet another weight loss example and tie it to Raghu Acharya's story from Part I.
On January 1st, 2022, 45 years old Arjun Bhargava set an ambitious goal to lose 20 kgs in 4 months. 8 months later, Arjun hasn't lost any. But he is now pissed off at this goal setting exercise. Thinks goals don't work and he should enjoy life.
Was it a surprise to me? Not really as I know Arjun too well.
Arjun has been steadily accumulating weight for the last 8 years. There was a very powerful force at work in his life. Books have been written about this. Can you guess the force?
"Habits."
Arjun had not realized it consciously, but a set of habits were governing his life. Especially when it comes to exercises, eating, drinking, and sleeping. I won't get into the details of this as they are irrelevant. The key takeaway here is that Arjun had no clue of the effect of these powerful habits on his life and his newly set goals. Even if he knew, he had underestimated its power. He had assumed that setting ambitious goals and reading motivational books would be enough.
However, while Arjun had some plans, his habits too had a plan for him – Continue doing what he was doing.
These old habits were thus leading Arjun to behave in a certain way- they were acting against his goals. The system of behaviour that led to weight gain was deeply set in his subconscious. How could this change overnight? Only a slow and gradual process would work.
On the other hand, while he was obsessed about goals, Arjun had no specific practical plan to achieve this goal. Additionally, he was trying to bring too much change too fast. As we know, long lasting change takes time.
Arjun needed to first understand what was truly happening. Why did he put on weight? What were the habits and behaviour that were causing him to put on weight?
Once he figured this out, the next set of questions were equally important.
What are the new habits and behaviours that he would require to achieve his goals?
What is the optimal pace of change for him?
A similar force was at work in Raghu Acharya's life (the distributor from Hyderabad) – Habits.
He had set an ambitious goal of adding Rs. 350 Crore in a few years. To set the context, he had an AUM of Rs.150 Crore in 10+ years.
Think he will make it. I will let you answer this one. My vote goes to this answer – No, unless he does the following.
Understands his current reality – His strengths and areas of improvement – What brought him to this situation?
Figures out the habits and behaviours at work.
Creates a specific practical plan that is implementable.
Create a set of micro actions to be done every day irrespective of whatever (this is one of the most important steps).
Reviews this plan every day, makes course corrections and forms new habits (this is yet another super critical step).
Ask yourself this question? If you have done Rs.150 Crore of AUM in 10+ years, can you expect to do an additional Rs.350 Crore in the next 3 years by doing exactly what you were doing before. If you are objective about this, your response will be No. Even Raghu responded with a No.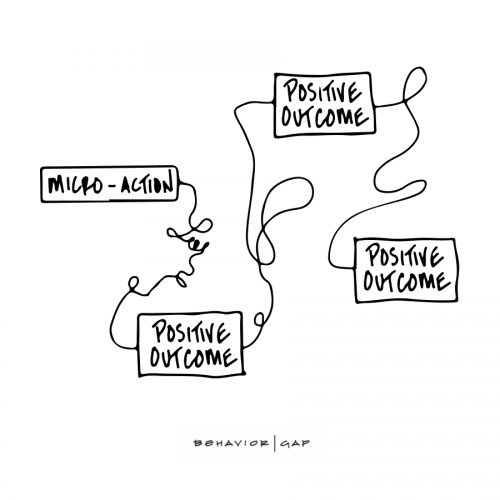 When tackling big, audacious goals, you don't need big, audacious actions. All you need is the contagious magic of micro-actions. As long as you don't stop.
Let me cite an example again in the context of my second most favourite topic.
This time, I will let Carl Richards share his thoughts.
When I travel, I often don't feel like exercising, even though I know I'll feel way better if I do. So, in the morning, I don't commit to a program to lose 12 pounds in twelve days or promise myself to run for 40 minutes. I just put on my gym clothes.
That's it.
And then, since my gym clothes are on, I almost always decide to just walk to the gym and take a look.
What happens next is what almost always happens when I step into a gym: I see the bikes and think, "I bet it will feel good to get on one of those for a few minutes." So, I do.
And other exercises naturally follow that.
After I exercise, I think, "Man, it would feel great to stretch," so I do that, too.
And then, since I'm on a roll, I decide to eat a healthy breakfast instead of sugary garbage. Later at work, I'm extra productive since my body feels great.
See what I mean about contagious?
There's a reason 80% of New Year's Resolutions fail. The problem isn't the goals, it's the way we go about trying to tackle them. We try to go big and burn out, forgetting that "slow and steady wins the race."
The magic here is in breaking down big, hard, sometimes even scary goals into attainable pieces. Find something small and attainable you can do, start there, and let the contagious magic of micro-actions do the rest.
Remember this Gretchen Rubin quote – What I do every day matters more than what I do once in a while.
We cover the habits of world class financial professionals, and what you need to do every day in our HappyRich Advisor Community. There will be member only special content for you including specific action points, scripts, marketing communication to clients and more. Besides this, we cover Strategy, Technology, Marketing, Growth, Leadership and many more. To become a Founder Member, Click here.