It's Time to Ganbatte!
In his book, "Ganbatte – The Japanese Art of Always Moving Forward", author Albert Liebermann wrote, "In many cultures, before an acquaintance is about to face a challenge or a new life adventure, we tend to wish them luck. In Japan, they use the verb 'ganbaru' conjugated in the second person form: 'ganbatte', translated as: Do your best and don't give up."
If you have done your best, it doesn't matter if the result is not what you were hoping for because you know that you didn't waste the opportunity. This is the philosophical message of ganbatte.
In our industry/profession, we are always a challenge away…There is a lion in the next bush whether it's predatory competition, technology adoption, regulatory changes and many other things…At the same time, there is an adventure waiting for many of us…Needless to say, we need to adopt ganbatte as our philosophy if we wish to make progress, achieve excellence in our craft and build a very valuable firm.
While we all want to build a firm that grows…one that is attractive to clients, prospects, buyers (investors), successors, something gets in our way…In fact, we get in our way… and generally there is no one to protect us from us.
Do some of the thoughts from the table below sound familiar?

Alex added further, "In Japanese, there is a saying: Senri no michi mo ippo kara, which means: "Even the longest journey begins with a first step. This saying reminds us that it doesn't matter what stage of life we are at; everything started with a first step, and we are halfway to a future that we shouldn't feel overwhelmed by."
If you are thinking about doing anything new (such as modernizing your firm or reimagining what you do or collaborating with someone), and you freeze at the thought of the chasm you will have to cross, the best thing is to focus on taking the first step.
Make that call, Sign Up, and Start to walk.
The initial step is the hardest one to take but once taken, it will give you immense self- confidence to then take the second step, then a third…
Your action will then create progress.
It's not progress that creates action…It's action that creates progress…Progress on the other hand creates complacency.
Doesn't it?
Hasn't progress made you complacent?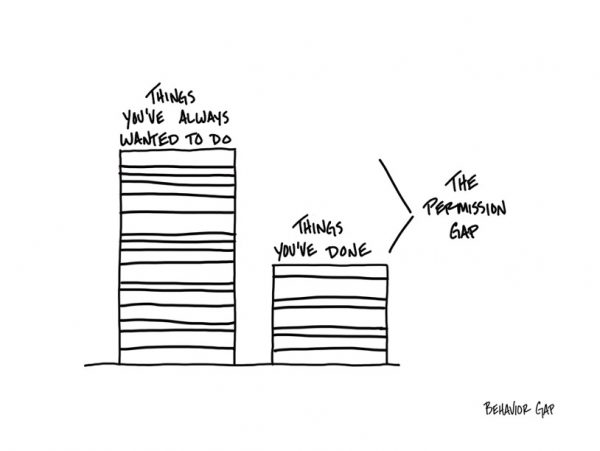 Do me a favour: grab a piece of paper and a pen.
Come on… no excuses. If you're sitting there reading this, you have time.
Got it? Good. Now make two columns.
Above the left column, write: Things I've Always Wanted To Do. Above the right column, jot down: Things I've Done.
Take a few minutes, no more than five, to populate each column.
Then put that piece of paper somewhere safe, where you'll see it often. Your office desk, the bathroom mirror, the fridge at home.
Now pick something from the left column and do whatever it takes to get it into the right column. Some things will take years, others months. You may even find that things like "implementing a world class client experience or hiring an entire team (this is a plug for HF)" can move from left to right in a matter of days.
For many people, the only thing preventing them from doing what they've always wanted to do is permission. 
Consider this piece of paper your permission slip. Now you have no excuses. Time to make your dreams come true.
Shane Parrish wrote, "The gap between knowing what you want and going after it is where fear thrives. You don't need enough courage for the entire journey. You only need courage for the next step."
There are millions of people who are counting on us to do our best and not give up. There is so much that we can all accomplish together.
Let's Ganbatte as a team to make a real difference in the lives of people who truly need us. Remember that a real financial professional (in this case you) is a guide in an uncertain and ever changing landscape; she/he is not the defender of an outdated map. Here's our promise: If you can understand this concept, it will change your life and your business. It will change how you communicate about what you do. It will change how you work with clients. Most importantly, it will change how you feel about the work you do. And that will fundamentally change how you feel about yourself.
Are you ready to Ganbatte?
We certainly are…