Everyone experiences this!
"What does he mean by this?", you might wonder.  
Answer: Growth Plateau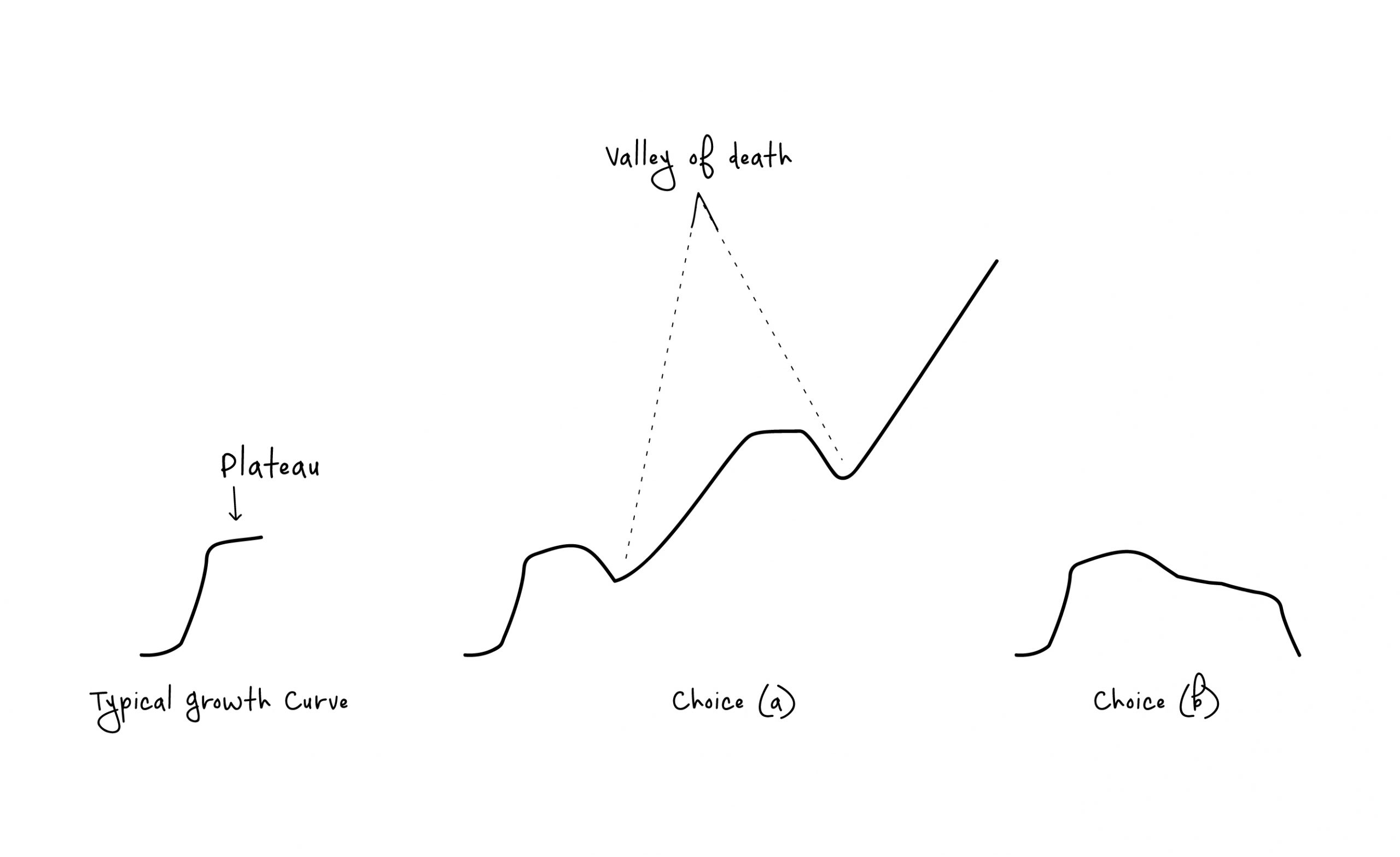 Look at the typical growth curve of a firm.
You have 2 choices when you hit a Growth Plateau:
Choice A) Do something about it.
Invest in the Firm.
Unlearn, Relearn, and Practice, Practice and Practice (on the way to Mastery). It is important to do the work. The Hard Work.
When you do something new, it seems like you are falling behind, and in fact you will. You are taking 2 steps behind to run fast like a tiger taking 2 steps behind.
Look at the Valley of Death in the above Sketch. You have to survive this. This can easily last for 3-12 months or more depending on the way you do it. Most people give up in the valley of death when they do not find the quick success they were hoping to find. Some people do find success, and most will if they keep doing the work consistently day after day.
Some excuses or reasons that you tell yourself during the valley of death journey (Trust me there are many more):
I met with 3 people, and they didn't sign up.
This will never work.
HNIs do not understand this.
Choice B) Do nothing and hope it will Pass.
Many are in this camp. They indulge in wishful thinking that everything will be fine. If this was not enough, they again get into wishful thinking but this time as a group. It appears that these firms are growing thanks to Mark to Market appreciation, but needless to say, such firms have entered a phase of steady decline. This is similar to the damage caused by termites. Things look fine on the outside, but these are times when most founders destroy value in their firms by practically doing nothing.
What will you do?
The Quick Fix person will leave once they hit a growth plateau and start doing something else.
Stressors freak out at the plateau and end up taking stress. They become super indecisive. They move from one webinar to another but seldom make decisions for doing what needs to be done.
Masters on the other hand say, "You are here sooner than I thought" and then go about figuring out how to overcome the plateau.
Therefore, masters are masters. When people encounter plateaus, they are discouraged, and many quit or stop doing stuff. Masters know it is normal and they keep going on. They do not stop.
As we all know in muscle building "The burn is where the growth starts".