Book Launch of "The HappyRich Advisor"
What a year 2020 has been? It has been a year of shock, fear, sorrow, surprises, fights (with the virus and within ourselves), survival, revelations, awakenings and triumph (against the virus). Humanity has survived and we made it through this year. I am sure we all agree on the fact, that we have never ever seen or experienced something like this. that has impacted the entire world at such unprecedented levels (personal as well as professional). 
There is a lot, that has happened in each of our lives. I am doing some reflections over the next couple of days and I would encourage you to find some time to do so. I think, we all should have some interesting insights to share with the readers of this blog and I would love to hear from you. 
On that note, I am super excited to announce the launch of my 5th Book "The HappyRich Advisor".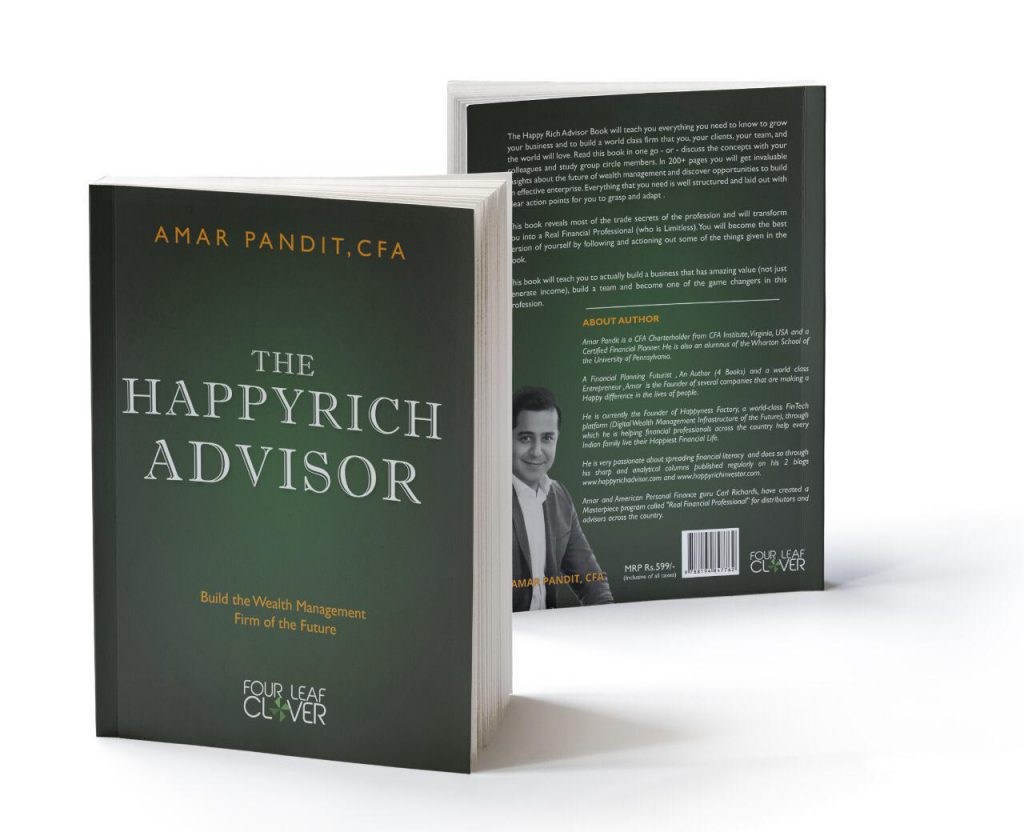 My first 4 books were predominantly for investors though thousands of distributors and advisors have used it for their clients and themselves.
I am very proud of this piece of work and I can assure you, that like all my previous books, this has been written with a lot of passion and love for the reader. I always saw a huge gap in the way most books for financial professionals were written. While there are excellent books on many subjects, globally there is not a single book that guides you (the financial professional) step by step to build an amazing business in the financial planning and wealth management space. We are all left on our own to figure things out. This book was thus born with the intend of guiding every person in this profession whether you are just starting off your career/firm or you are someone who is a veteran in this space already. My goal is to make this an essential reading for anyone and everyone in this profession. There are tons of insights for everyone including Distributors, RIAs, Technology Vendors, AMC professionals, Venture Capitalists and anyone who is seriously interested in gaining a perspective of this profession and industry as well as to understand the nuances of this business.
The Happy Rich Advisor Book will teach you everything you need to know to grow your business and to build a world class firm that you, your clients, your team, and the world will love. You can read this book in one go – or – discuss the concepts with your colleagues and study group circle members. In 200+ pages, you will get invaluable insights about the future of wealth management and discover opportunities to build an effective enterprise. Everything that you need is well structured and laid out with clear action points for you to grasp and adapt.
This book reveals most of the trade secrets of the profession and will transform you into a Real Financial Professional (who is Limitless). You will become the Best Version of Yourself by simply following and doing just some of the things written in the book.
Finally, this book will teach you to actually build a business that has an amazing value (not just generate income), build a team and become one of the game changers in this profession.
Cost: Hundreds of Hours of Time, Thinking, Skill, and Effort (not to mention the rework and edits); Cannot really quantify this.
Price: Rs.599 only.
Value: Invaluable (and if you really find it so which you will, feel free to send me cheques later)
Click on Pre-Order Button to book your copy on Amazon.
Thank you so much for being a part of this effort of mine and for your attention over the last 12 months. Over the next couple of days, I will be spending some time on what has worked and what hasn't so that I could add more value to all of you. In that spirit, I would ask for your help and feedback on what you like, what you don't and what you would like to see or know more.
Wish you and your family a very Healthy and a Happy New Year!  I look forward to 2021 with all of you and building an amazing year, together. See you all in 2021!