Amar Pandit + Carl Richards =?
Carl and I are super excited to announce the awesome work that we are doing for all of you. Yes, we have come together to help each, and every IFA build the firm of your dreams.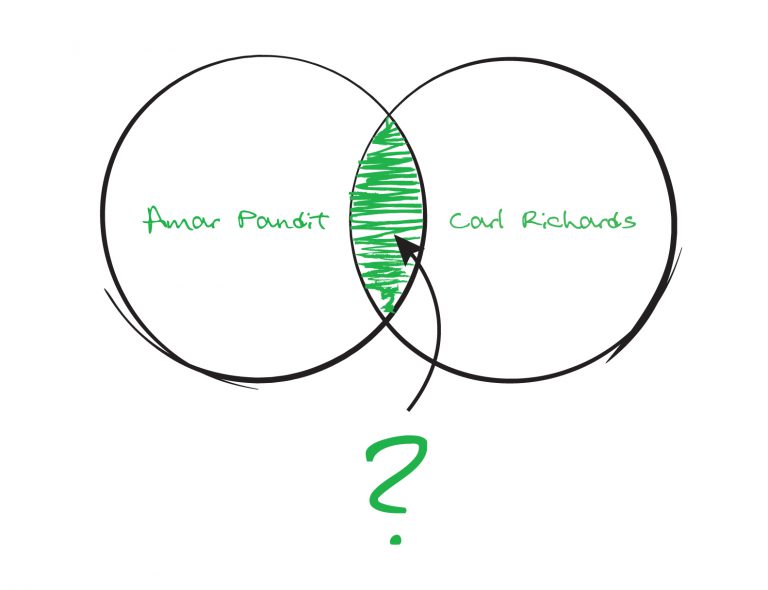 Let me tell you our little journey together. I first met Carl 10 years ago in San Diego at a conference in the US. I instantly loved his work on Behaviour Gap and the simplicity with which he was explaining complex concepts. Most importantly, they were insightful. On the other hand, I was doing my bit in terms of simplifying the complex and bringing out the real value of the financial planning process. Thus, we connected and kept in touch with each other.
Over the years, we kept bumping into each other. Carl's work continued to gain global fame, while we had done some amazing work in the financial planning /wealth management space here (with exciting projects in FinTech, AI, Financial Life Coaching, Financial Experiences, Documentation and others). In 2016, we both got together to lay the foundation of the work that we both believed would make an awesome difference in the lives of IFAs. However, before we could nail down the details, Carl moved to New Zealand.
Finally, in 2017, Carl made a big trip to India where he spoke and presented to countless IFAs. He met me and saw the work we were doing at Happyness Factory. He told me "I have been to the Betterment office in New York and seen the work they have done, and I see what you have done. You have captured the essence of financial planning. This is simply brilliant."
Our friendship and mutual interest in helping IFAs rekindled, and we began to make a plan to take our discussions to the next level.
We have been working on many interesting things that we will be announcing in the weeks ahead. We are both confident that you will not only love what we have in store for you, but you will derive massive value from this body of work.
Stay Tuned for more details.
P.S. Let me know if you like to be the first to know more about this.